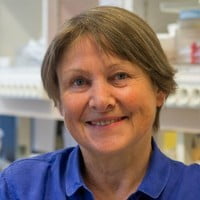 Monique Lafon, Chief scientific officer

Monique is director of the laboratory of Viral Neuro-Immunology of Institut Pasteur (Paris) since 2001. Former student of the Ecole Normale Supérieure, cum laude in biological sciences, Monique Lafon holds a PhD in biochemistry of the University of Paris Descartes.
In the laboratory of Viral Neuro-Immunology at the Institut Pasteur, Monique Lafon's research focuses on the rabies virus, a neurotropic virus that causes lethal encephalitis.  Monique Lafon has published more than a hundred articles in various international scientific journals.
Pascal Voisin, Executive chairman
Pascal is an entrepreneur and a business angel, member of the Angels Santé network since September 2016. With 30 years of experience in the management of companies in the financial sector both in France and abroad, he brings to the company his general knowledge of management, business development and his knowledge of the financial world and investors.
He is a graduate of HEC and holds a DEA in economics from the University of Paris Ouest.